(Umberto Lenzi, 1975)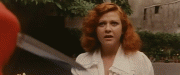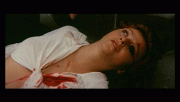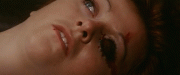 This mid-70's Giallo from Umberto Lenzi doesn't rely so much on the story as it does the sleaze. The story concerns a group of tourists in Spain who are being bumped off by a red rain-slicker clad killer who delights in removing their eyeballs.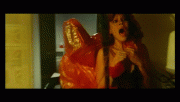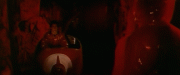 The premise for the whole movie and the motive for the killings is silly to say the least, but it does make for great trashy fun. There's enough nudity, lesbians, and blood to keep one from growing bored, and the film moves at a brisk pace. As with most gialli, emphasis is placed on the style of the movie, and not the substance. Two sequences that do stand out are the murder in the funhouse, and the revelation of the killer's identity at the end (I'll bet you never guess who it is!)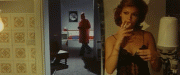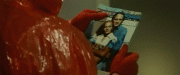 This title is a little difficult to track down. Used R-2 or PAL DVDs do exist, but I'm still waiting for an official release. Until then I'll settle for my dl'd copy. It should be in your Top 20 Gialli to see, as it is fairly memorable.