(
Lamberto Bava
, 1986)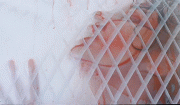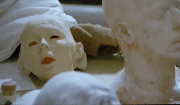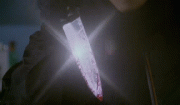 Police Inspector Nicola Levi has a bit of a dilemma: his wife has been found stabbed to death in the shower shortly after he discovered she was cheating on him. His criminologist friend believes he is innocent, as the murder was too similar to another that had been committed years earlier by the "Midnight Killer", who was supposedly dead...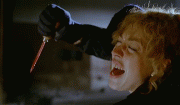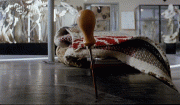 Lamberto Bava continued to make a few gialli through the 80's, breathing new life into a dead genre. In true giallo fashion, the murders are gory, mean-spirited and beautifully shot (though none seem to occur at midnight!) It's an 80's giallo, so the sets are white and minimal, and brightly lit (a look popularized in Tenebre). Claudio Simonetti provides another great soundtrack, this one quite dark and stringy.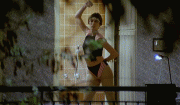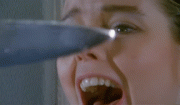 Lara Wendel and Paolo Malco will be welcome faces to those acquainted with the genre, rounding out a competent cast (competent being relative to the genre, haw!) Not as wince-inducing as
A Blade In The Dark
, but it DOES feature the inappropriate use of an electric mixer towards the end! And ever-present is the flashing blade, an image used in a few Bava thrillers. Recommended, if you can find it.
Trailer here
.