(Umberto Lenzi, 1989)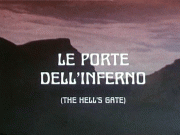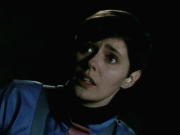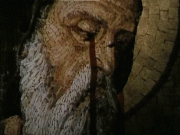 (description from IMDB user review)
"A man who has recently broken the world isolation record in a labyrinthine cave encounters seven ghostly monks who, seven hundred years after their execution during the inquisition, attempt to free themselves from damnation by killing seven heretics—the record-breaker and his would-be rescuers."
And that about sums it up!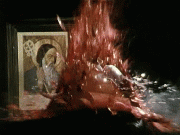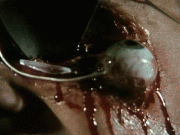 Lenzi must have been absolutely exhausted when he made this, having just done
House of Lost Souls
,
House of Witchcraft
,
Ghosthouse
, and Hitcher In The Dark... his heart just isn't in it...not that he put THAT much into his movies, but he's really stretched thin here! We have the usual stock horror images of cobwebbed skulls, tarantula attacks, bleeding pictures, and walls of fire. Heads are crushed and eyes are gouged, but it almost feels like a "Best Of" compilation, with images and deaths lifted from
Ghosthouse
,
House of Lost Souls
, and Lucio Fulci's
The Beyond
.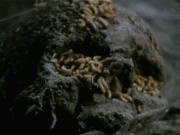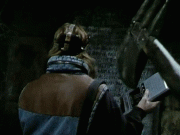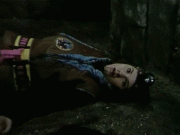 I am a bit of a softie for Umberto, so I can't say Hell's Gate is a complete write-off. The underground location works, Barbara Cupisti is always a welcome face, and I really dig them Batman-style camera angles. Also, love it or leave it, Lenzi's films do have a rather unique style. And randomly exploding electronics and glass jars. Either way, it's recommended. I have yet to find an copy with English subs, and as far as I know, this hasn't been released in N America at all. Best of luck with the downloads!