(Luigi Cozzi, 1989)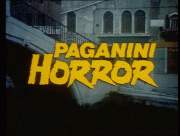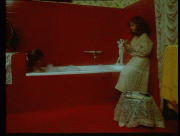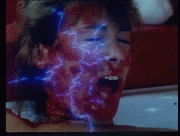 Written by Luigi Cozzi and
Daria Nicolodi
(!), and with Donald Pleasence in a supporting role... how could they go wrong? Where did they go wrong? Here we have another "young people locked in a creepy old house with a killer on the loose" story with bad 80's EVERYTHING... the clothes, hair, music, overuse of glowing geometric objects, and badly-animated electricity effects. And you know what? I changed my mind. I LOVE Paganini Horror, with its dark, muddled look, and its nonsensical, nightmare-like plot that creates more questions than it answers. It almost has that surreal,
Inferno
-ish quality about it (albeit on an even smaller budget!)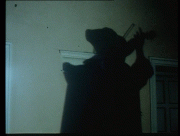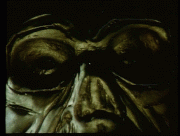 An all-girl rock band have just purchased some accursed music written by Nicolo Paganini, and are looking for the perfect creepy house to shoot their Thriller-inspired video. Accursed music is played, Paganini rises from the tomb with his switchblade-tipped violin, and it's all gravy from there. Holes open in floors, coffins catch ablaze, and there's even a room full of mannequins that brings Mario Bava's Blood and Black Lace to mind! Daria Nicolodi also has a small role in this, and I have to admit the movie wouldn't have been as watchable without her and Pleasence.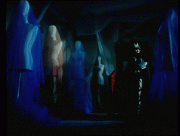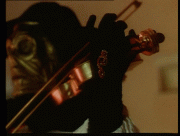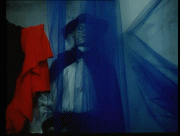 Cozzi actually manages to milk some atmosphere out of this, making good use of shadows and bold primary colours (again, a nod to Bava?) We are treated to some creatively cheesy deaths, my favorite being when one of the girls is "squashed" by an invisible force (aka a sheet of glass!) The uninspired 80's music, I must say, has never grown on me. It just hurts. You'll see. Worth a watch or two.
Trailer here
.