(Umberto Lenzi, 1989)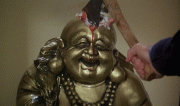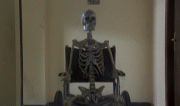 This heap of nutty brown goodness is one of Lenzi's two contributions to the House of Doom TV series (the other being
House of Witchcraft
). If you've already seen his earlier film
Ghosthouse
, you will notice but a few similarities.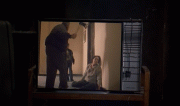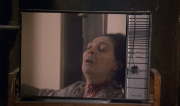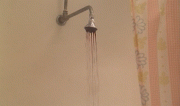 We have another story about a group of people who end up in an abandoned building (in this case, a group of geologists are tricked into staying at a haunted hotel). Again we have the possessed TV gag, this time showing a madman slaughtering the hotel's guests. There's also a blood-dripping shower, exploding bottles, and a nonsensical subplot wherein one of the girls gets psychic flashes of the malign spirits. It's nonsensical in that everyone else gets to see the ghosts themselves, so its purpose is kinda lost on me! And forget about a couple ghosts... we have a whole party here! There's Mama ghost n Papa ghost, Little Boy ghost, and even a Buddhist monk ghost who may or may NOT also be a paraplegic skeleton!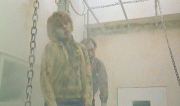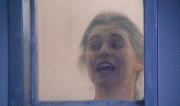 Of course, this is all because someone killed them and their spirits are a wee bit miffed. Why kill innocent interlopers? Why not! True, the story doesn't score any points for originality, and the look of the film is quite flat and uninspired. True also, they used bits of Claudio Simonetti's score for
Demons
. ALSO true is that the gore is cheap and rubbery. So why might I possibly recommend this? For starters, the first person to die in this is the annoying little kid. He loses his head in the dryer! (no, I'm NOT making this up!) That scene makes me so giddy I almost forget how on EARTH someone could lose their head in the dryer...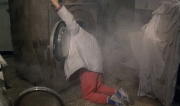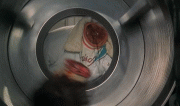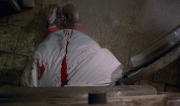 I also smile when one of the screaming female leads (who seem to breed like ferrets in these movies)) gets a wallop to shut her up. NO, I'm not some misogynist sleaze. I just can't help but laugh at such tasteless, pointless, and politically incorrect scenes! Recommended for those who have burned through all the Lenzi and are still craving more of his peculiar smelling cheese.