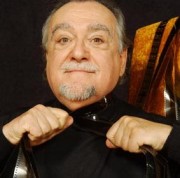 Though known mainly for his
Demons
films, Lamberto Bava started directing at a much younger age. Born in Rome on the 3rd of April, 1944, he was the son of Italian horror legend Mario Bava, who helped Lamberto get into the film industry by making him assistant director to some of his films, including Planet of the Vampires, Rabid Dogs, La Venere D'Ille, and
Shock
. Lamberto was also assistant director to Dario Argento in his films
Inferno
and
Tenebre
. Bava made his directorial debut with 1980's
Macabre
, two months after which his father died. Soon after, he was approached to film a four-part miniseries for TV,
A Blade In The Dark
, which was considered too violent for home audiences and was recut and made into a full length film. His popularity soared after the release of
Demons
and
Demons 2
, after which he began directing more made-for-TV thriller series. His foray into the realm of fantasy, the Fantaghiro series, was quite popular as well. To this day he still directs for TV, and releases the occasional film.
Selected Filmography:
Macabre
(1980)
A Blade in the Dark
(1983)
Cruel Jaws (1984)
Demons
(1985)
You Will Die at Midnight
(1986)
Demons 2
(1986)
Delirium: Photo of Gioia
(1987)
Turno Di Notte (6 episodes for TV) (1987)
Prince of Terror (1988)
The Man Who Didn't Want to Die (1988)
Brivido Giallo TV Series (1987/88) -
Demons 3 / The Ogre

-
Dinner With a Vampire
-
Until Death

- Graveyard Disturbance
School of Fear
(1989)
Black Sunday / Mask of the Demon (1989)
Eyewitness (1990/91)
Body Puzzle (1992)
The Torturer (2005)
Ghost Son (2010)
*
Thanks to IMDB for the info and Bikestar.org for the photo.