These two have been consistently subjected to some of the nastiest onscreen deaths in the history of Italian horror cinema! Here's a compilation of my fave death scenes.
*Maria Angela Giordano* aka Mariangela Giordano aka Maria Angela Giordan aka Mary Jordan aka Marian Dana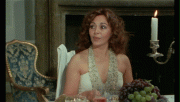 MALABIMBA THE MALICIOUS WHORE
- She gets a hand rammed up her vagina, then throws herself off a roof.
GIALLO A VENEZIA - She gets strapped to a table and has her leg sawed off. She is repeatedly slapped until she regains consciousness, and subjected to further torture.
PATRICK VIVE ANCORA
- A firepoker goes in her vagina and comes out her mouth!
BURIAL GROUND: THE NIGHTS OF TERROR
- Her son bites off her nipple.
THE SECT
- She is stabbed to death in the back of a semi by a horny trucker.
*Giovanni Lombardo Radice* aka John Morghen
(middle shot is borrowed, I didnt bother to take more!)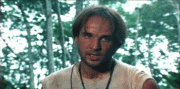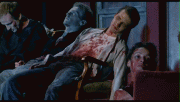 CITY OF THE LIVING DEAD
- He gets a drill through the head, temple to temple.
HOUSE ON THE EDGE OF THE PARK
- Slashed by his friend.
CANNIBAL FEROX - His wiener gets lopped off and eaten by savages.
STAGEFRIGHT
- Is mistakenly axed in the chest by friends.
THE SECT
- Shoots self in head.
CANNIBAL APOCALYPSE
- Shot to death.
He also appears in The Church and Body Puzzle.