(Andrea Bianchi, 1989)
Alas, only two more Bianchi reviews and it's DONE! Can you tell I'm getting tired of scraping the bottom of this particular barrel? Massacre is another classy, quality production from the director of such cinematic greats as "Malabimba The Malicious Whore" and "Strip Nude For Your Killer". Okay, so it's a bit of a stretch to call this classy, quality, OR cinema.
The film starts, promisingly enough, with a hooker being decapitated on the side of the road. We then cut to a girl with monstrous eyebrows meandering through a graveyard at night. We learn, thanks to some cheap latex masks, that this is the old "movie-within-a-movie" gag, and the girl is our leading lady, Jennifer. We also learn that her eyebrows are actually real. The production, "Dirty Blood" appears to be a curious hodgepodge of horror elements with no real story. A commentary by Bianchi on the industry? Let's not go that far.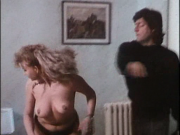 We are then introduced to the rest of the cast and crew. There's Robert, the abusive director, and the producer, Frank. There's also actors John (the pretty boy), Mira (the predatory lesbian), Adrian (the flaming-gay guy), Lisa (who is dating Robert and screwing John), and Gordon (owner of the worst 80s apparel imaginable). Oh yes, and Jennifer's policeman boyfriend, Walter. The cast are invited to a seance, a move that Frank feels will help move his film in a horrific new direction. In a seemingly pointless scene, an evil entity breaks away from the table and runs rampant. The cast and crew, predictably, start to disappear one by one (or two by two, as the ending dictates!)
If you've seen any of Andrea Bianchi's other work and weren't impressed, then steer clear of Massacre! All of the things that make his films so terrible (and so very wonderful!) are present, including his trademark use of the unsteady-cam. Viewers' senses will also be assaulted by a barrage of ugly actors (with the exception of Walter- woof!), naked women, and misogynistic violence. This time 'round we also get two homophobic stereotypes!
Frustrating to some will be the complete lack of logic within the film, from the characters' continuation with the production despite their dwindling numbers to the logic behind having a seance as a means of sparking creativity, an idea that leads to the filming of Adrian in drag as Liza Minelli. Horrific new direction, indeed!
Also amusing are the hastily-written subtitles, which provide a lot of unintentional laughs. For the duration of a scene, the actors refer to a "Jack", who comes up as "Rack" in the subs. I also laughed aloud when, whilst a hooker and a fat old man are making out in a car, the words "I know what you mean. I hope it doesnt take too long." come up on the screen even though no one is talking!
The music in this ranges from ear-splittingly bad 80s High NRG to some surprisingly creepy horror synth. The gore and special effects seem to have about the same range, varying between fake-looking rubber hands and properly-colored blood. I don't recommend you rush out and download this (there's no dvd yet), as it's really just another example of why and how the genre died out. MTR3K fans, however, will rejoice.