(Michele Soavi, 1987)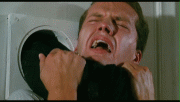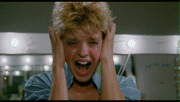 Here we have a true horror classic, Italian or otherwise. Produced by Joe D'Amato, partly written by George Eastman, directed by Michele Soavi, and starring Barbara Cupisti, David Brandon, and Giovanni Lombardo Radice...can't go wrong!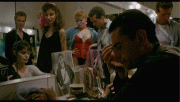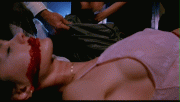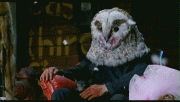 The story goes something like this: A group of youngish actor/dancers are rehearsing for an amateur production (and by amateur I mean...just watch the opening dance number!) The leading lady (Cupisti) sprains her ankle and sneaks out with the wardrobe mistress to get it looked at...which takes them to a psych ward, the nearest medical facility. A particularly deranged inmate escapes, hitches a ride back to the theater with them, and kills the wardrobe girl. Her body is discovered, and after the police have left the troupe are coerced into continuing with the play in an effort to cash in on the murder. The coked-out director (Brandon) gets a notion that no one should leave the theater until the morning, and has one actress lock the doors and hide the key. Guess which actress is the next to be murdered?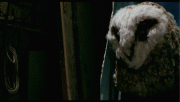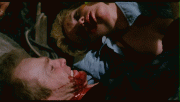 The film doesn't get going until well into the second third, but when it does, it doesn't let up. The poor crew get stabbed, chainsawed, drilled, cut in two, and beheaded by our owl-masked friend! One unfortunate soul gets a pick-axe through the mouth! So what makes this a more effective film than say, Friday the 13th (any of them)? For one, the characters aren't just two-dimensional fodder. Care was taken to create realistic, sympathetic individuals. That's not to say that they are all likeable, though! They actually think too, and take care to arm themselves and stick together. It's a pity it doesn't work out for them.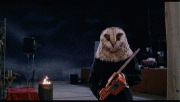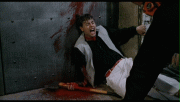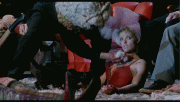 The other thing I really appreciate about Stagefright, or any of Soavi's films, is the photography and editing. His films are slick and frightening at the same time, and there are genuinely tense scenes that will leave you holding your breath. He, like his mentor Dario Argento, has the ability to make death a thing of beauty. There are a few rather tongue-in-cheek scenes, my favorite being when one character is being drilled through a door. A bottle of bright red stage blood shatters on the floor, creating a pool of artificial gore onto which drips the much darker real thing. Also humorous is the ending, but I won't give that much away. I highly recommend this as one of the first films you should watch if debating whether Italian horror is for you.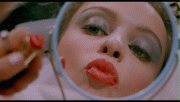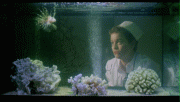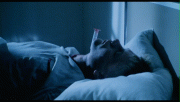 Buy It