(Emilio Miraglia, 1972)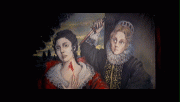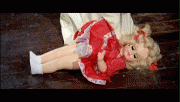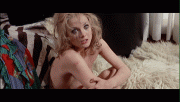 Ah, one of my favorite Gothic gialli. This one's about a family cursed by the Red Queen, a murderous ancestral spirit who returns every 100 years to claim 7 victims. As children, Kitty and her sister Evelyn were fascinated by the legend, Evelyn so much that in the opening to the film she decapitates Kitty's doll with a pair of shears. Fast forward to present day (1972 being present day). Kitty is all grown up and has a garish new wardrobe, but is plagued by the guilt of having accidentally killed Evelyn. She is also being blackmailed by a greasy little fellow in leather who was hot for her sister. When someone starts killing her friends and loved ones, rumors go about that the Red Queen has returned.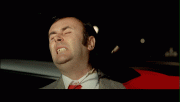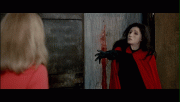 I'm a fan of pretty much any Gothic giallo (7 Deaths in the Cat's Eye, Murder Mansion, Something Creeping in the Dark,
Murder Obsession
, etc), but this one stands out a little bit. The film itself is quite dark, and makes good use of shadow and contrast. The Red Queen herself is quite the antagonist, striking out randomly with her dagger before running off cackling insanely. There is a decent amount of gore to be seen here, the highlight being one unfortunate character falling on an iron fence and catching herself with her jaw!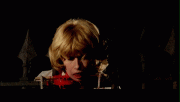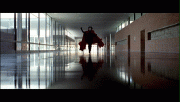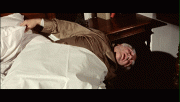 The standard Giallo elements are all present: black gloves, a straight razor, blackmail, and a trillion red herrings. The lovely Barbara Bouchet and Marina Malfatti star, and there are a couple other familiar faces among the cast. The wardrobes are especially disturbing in this, and anyone with an aversion to plaid should steer clear. The score by Bruno Nicolai is catchy and appropriate, and the sets are bright and ultramod (though one was obviously bought off Sergio Martino when he was done with it!) Recommended for intermediate viewers.