(Dario Argento, 1975)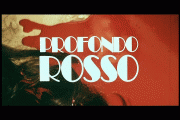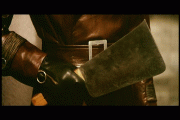 I cannot stress enough the importance of this film within the realm of gialli, Italian horror, and horror films in general. It was huge in Italy upon its release, and an astounding worldwide success for Dario Argento. Some (myself included) believe this to be his most accomplished film technically and artistically.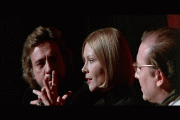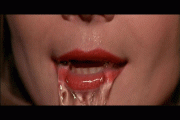 The story follows Marcus Daly (David Hemmings, of "Blow Up" fame), a jazz pianist who has the misfortune of witnessing the brutal bludgeoning death of renowned psychic Helga Ullman, who had at an earlier conference picked up "twisted" thoughts from an unseen murderer in the audience. Marcus later believes that something in the apartment might have been moved or is slightly different, a clue that may lead to the killer's identity. Thus he begins his own investigation with reporter Gianna Brezzi (
Daria Nicolodi
), a firm supporter of womens' lib. The list of suspects is long, and the clues in between cryptic and stretched to the point of incredulity.One would, however, be hard-pressed to correctly identify the killer before the end of the film.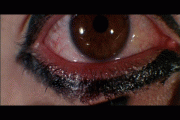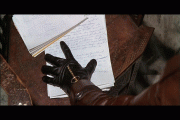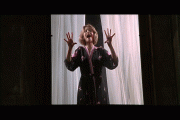 The story is one of Argento's best-written, and the characters among his most quirky and memorable. Care was taken to develop them, which is a a rare occurrence in the bulk of his work. This does add quite a bit to the running time, but the scenes between Marcus and Gianna are never boring and add dimension. Marcus' friend Carlo is also well-rounded, and even after the revelation that he is a closeted homosexual who is seeing a transvestite he is never portrayed as mincing and effeminate (as they so often are in other Italian films from around the same time).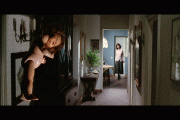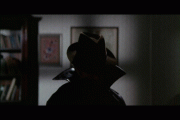 Okay, enough about the story! The real star of the show is Dario's INSANE compositions, lighting, and camerawork. He uses dark, muted color schemes and stark, atmospheric lighting throughout. His camera glides over the sets, lingering on knives, dolls, and closeups of red-rimmed eyes. A hundred screenshots from this film could be printed off and framed as art. Indeed, the whole affair DOES feel like a murder mystery by way of art house flick, with a few healthy doses of all-out horror. The murders, though spaced out, are extremely violent (especially considering when this came out) and well-filmed. Finally, there's the music to mention. It's by Goblin. Need I say more? One of their absolute best soundtracks, too. I give Deep Red 10 out of 10, and recommend it as one of The Top 3 Italian horror films to check out. Like now.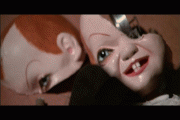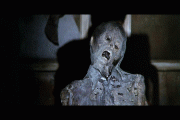 Buy It