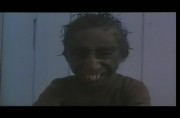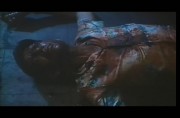 Dr Olman has, for God knows what reason, created an extremely deadly humanoid rat-monkey hybrid in his Caribbean laboratory. The night before he is to transport the Rat Man to a genetics conference, it escapes from it's flimsy wire cage. On another part of the island, photographer Mark, models Marilyn and Peggy, and Mark's assitant Monique are working on a sexy sun 'n surf photoshoot, when they stumble across some pulpy human remains. Rather than do the logical thing and alert the authorities, they wave it off as Peggy is leaving for New York the following morning, and the others want to find a more suitable location for the next shoot. Excellent excuse for not reporting a homicide, especially when the killer is probably still in the area. Anyway.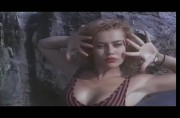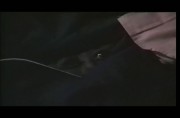 That night, Peggy borrows Marilyn's purse and goes to a party. On her way home, she is followed by a knife-wielding homeless person, so she hides in a closet in an abandoned building, where she encounters... the Rat Man! Needless to say, this doesn't bode well for her. The following morning, Mark, Marilyn, and Monique set off for the jungle, unaware that Peggy is dead, and they are being trailed by not only the Rat Man, but his creators, as well as Marilyn's sister Terry, who was erroneously informed of her sister's death because of the purse mixup, and mystery novel writer Fred Williams, who met Terry in a taxi mixup.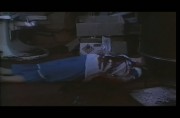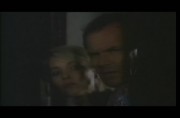 To sum things up here: Tits, Ass, Blood. A good portion of the film is spent ogling Eva Grimaldi's ample assets, not that that's a bad thing. Don't expect much storywise, as Rat Man is tasteless tripe, a mere excuse for the sexy goings-on. The writing is definitely on the lazy side, as aspects of
Tenebre
and Zombie are inserted throughout. Though the premise, as well as the characters' motives for their brainless actions, are laughable, Rat Man
is
up there on the creepy scale. That little creature is seriously unnerving, moreso because we rarely catch more than a glimpse of it's paws, shadow, or beady little eyes, or hear it squealing. Even in full light, it's hideous. The way it scuttles up curtains, burrows through walls, and hides in shadowy crevices elevate Rat Man from hilariously cheesy B-movie status to hilariously creepy B-movie status. Recommended for lazy Sunday afternoon viewing, or if one has already burnt through the hundreds of better titles that Italian horror has to offer.